There's a promo video at the bottom of this post for those that don't care to read 😉
We are pleased to announce the release of our add-ons (plugins) for Genesis 2.0 child themes. The Styles Plugin by Brainstorm Media is an innovative new plugin that allows easy and fast style customizations of WordPress themes via WordPress's own customizer.
Non-coders rejoice!
If you are a non-coder but like the speed, security, designs, etc of Studiopress and the Genesis Framework, you are about to be blown away.
Our add-ons let you change background colors, link and hover colors, fonts (including Google webfonts), font sizes, font colors, and more! If you don't want to (or don't have the time) to learn to code, Styles add-ons for Genesis are your answer.
Developers – create live mockups in minutes
Developers may not like the idea of a plugin to do customizations they would rather (and are more comfortable to) dive into code and make the changes. I know the feeling, I'm the same way.
However… how often do you have clients that aren't sure of their color schemes, or request to see samples of what the site may look like with a different feel, style or look? Styles add-ons for Genesis makes these changes extremely simple and fast.
Take a look at the image below to get a quick glimpse into the ease and power of these plugins.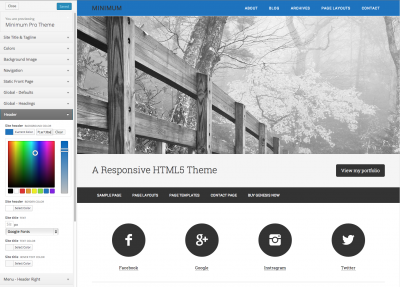 Genesis 2.0 Styles add-ons available now
At the time of this post, we have 5 add-ons available for immediate purchase. The add-ons are available for the following themes.
Assuming we receive the interested we expect to see in our add-ons, we will continue to release add-ons as Studiopress updates and releases new child themes.
If you'd like to have an add-on for a specific Genesis 2.0 child theme, contact us and let us know to consider it!
Volume Discounts
This may or may not be a limited time offer… but right now you can get 15% off when you buy 2 add-ons, and 25% off when you buy 3 or more. The discount will automatically be added to your cart when you checkout.
Styles for Genesis promo video
What do you think about Styles Plugin and our add-ons for Genesis? Feel free to let us know in the comments.