Fast, real-time, Genesis font and color customizations without coding
Personalize your site today!
Why Styles?
Control over your theme
Styles for Genesis plugin lets you customize any HTML5 Genesis child theme. Easily change colors, fonts (Google fonts too!), font sizes, buttons, and more using the built in WordPress customizer with the Styles add-on for the Genesis Framework from Studiopress.
Easy to use, seriously
Within minutes, you will be able to completely transform the look and feel of your WordPress/Genesis website. All without touching a line of code. Styles for Genesis is an add-on for the powerful (and free) Styles Plugin. This 'add-on' plugin adds specific Styles support for Genesis child themes. Without an add-on like this, Styles on its own will be unusable.
Who is it right for?
Non-coders
Use the WordPress customizer
No coding required
Change colors
Change fonts, including Google webfonts
Font sizes
Buttons
and more...
Developers
Quickly create live color scheme and font mockups
No coding required
Get client approval before wasting time coding
Change fonts, including Google webfonts
No need for Photoshop anymore
Features
Actual Screenshot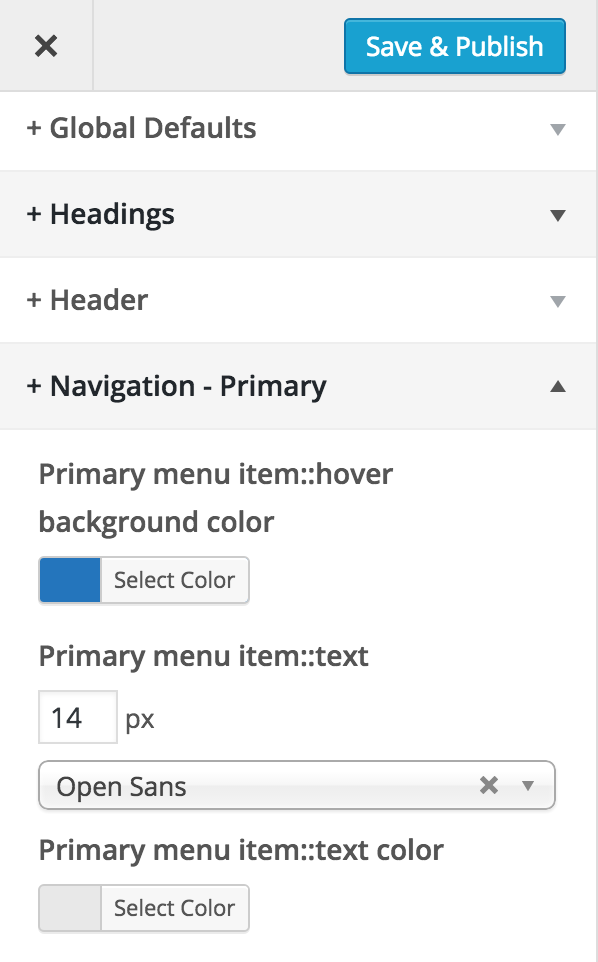 Site Wide Changes
Independent Body, Site Header, Content, Footer background color pickers
Heading Fonts (indluding Google webfonts)
Page Title, Entry Title, Entry Title link fonts family, font size, and colors
Navigation Menus background color, font family, font size, and colors (including hover state)
Pagination background color, and text color (including hover and active)
Footer Widget background color, widget title fonts, and widget text colors
Site Footer background color, font color, and link color
Theme Specific Changes
Front Page fonts, colors, and borders
Internal pages background colors
Post meta (date, author link, categories, etc) font and color control
Sidebar and Widget titles font family, font sizes, and colors
Comment form, fields, and button colors
3rd Party Plugins
Built in support for Gravity Forms
Built in support for Genesis eNews Extended
Built in support for Genesis Responsive Slider
Some of our happy customers
I was so happy to buy your plugin. I worked 6 hours on our page and I was super proud of my work.- Catalina
I love it! I feel like I've been living in the Dark Ages with all this hard-coding I was doing on the old theme.- Ron
Hi, I've been using the Styles plugin for my site and happily made lots of customizations.- Beth
Bought your styles plugin today. Best money I've ever spent!- Jon Rittmann
I really love your plug-in and I was working with a marketing designer yesterday, and they thought it was slick too. So, thanks again. Your work is saving us a lot of time!- Rodney
Thank you so much. Now the magic is happening! - Rodney
I love this plugin and it's ability to save me time!- Mike Baker
love your work and glad i found your plugin.- Don
I purchased your ad on and can't wait to start building my website- Doug
SO AWESOME. I've been working the crap out of it! - Amanda
Really appreciate you programming this – makes the process so much easier!! - Agata
Just saw your Genesis themes plugins. Great stuff. - Tura
It looks like a brilliant plugin.- Keith
You plugin just saved me tons of effort - I really appreciate it. - Jeff
I love your plugin! - Adam
I watched one of your demos and was really impressed. :) - Rebecca
I love the plugin since it's so easy to change the appearance of the site. - Johanna
Hi. Recently I bought your nice plugin. And it looks great. - Juan
Thanks! This plugin is a lifesaver beyond description. - Bodie
Great plugin for non coders!!! - Janet
Cool product--I picked it up yesterday - Dylan
I can't even describe how much I love this plugin! I found it after spending an hour poking around in my css code trying to figure out how to change one header font in my Genesis theme. I finally tried Googling "change Genesis fonts" and found your product. I'm using the Author Pro theme and was worried it wouldn't work with my theme, but it did. Before I found this plugin, my website was kind of "meh." Now, after being able to very easily customize colors and fonts, I love the way it looks. Thank you so much! - Jennifer Pinkley
Current fully supported Genesis child themes
New themes added regularly!
Beautiful Pro
Watch Video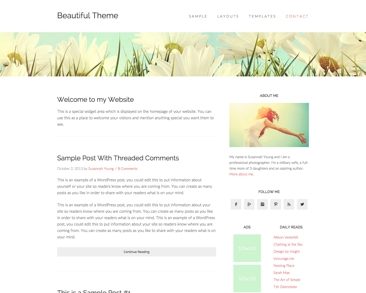 Epik
Watch Video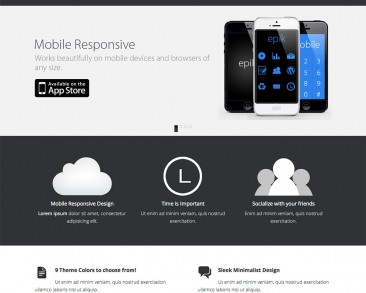 Executive Pro
Watch Video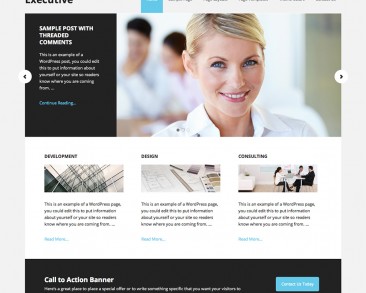 Going Green Pro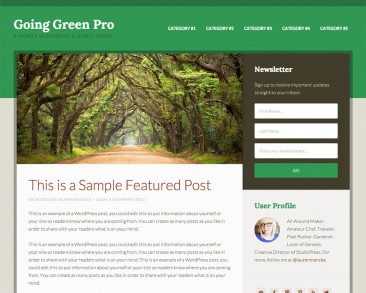 Magazine Pro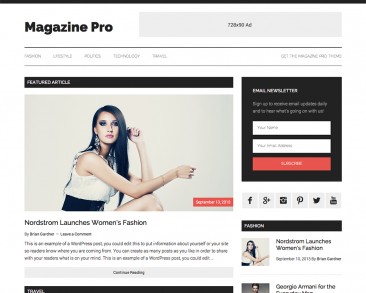 Metro Pro
Watch Video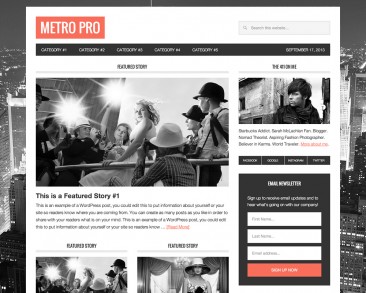 Minimum Pro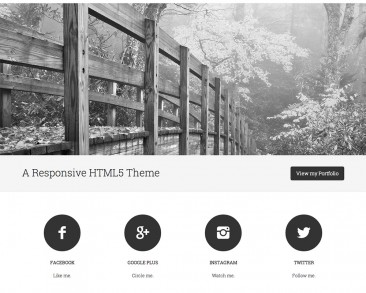 News Pro
Watch Video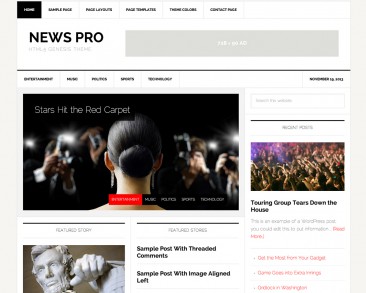 Parallax Pro
Watch Video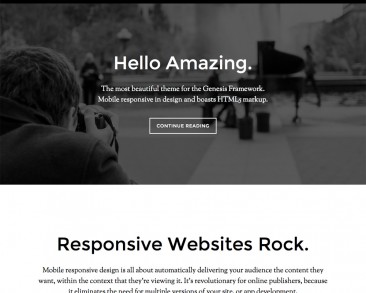 Sixteen Nine Pro
Watch Video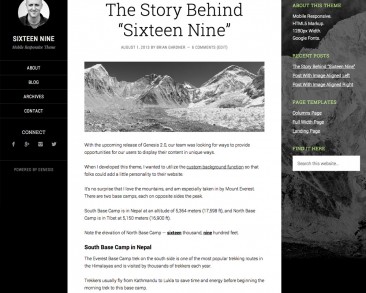 Basic support for ALL HTML5/Pro Genesis child themes!
You don't have the fine tuned control of the supported themes above, but you can have basic (lots of options!) control over many areas of your theme and website.  This plugin targets the standard markup of pro (HTML5) Genesis child themes.
More fully supported themes coming soon! Let us know which ones you'd like to see support for next.
Terms & Conditions
Licensing
Licenses are valid for one year from the date of purchase. A valid and active license key is required in order to get updates and support.
Software Updates
Updates are included for one year. If you have a valid and active license key updates will be delivered automatically from the WordPress dashboard.
Support Services
Support for Styles - Genesis is provided for up to one year after the purchase date. If you wish to get support after one year, you must renew your license key or purchase a new license.
Refunds
If you have any issues with our plugin, we will be happy to provide a full refund within 30 days of the original purchase, no questions asked. After 30 days, no refunds will be considered.
We firmly believe in the idea of "Satisfaction Guaranteed" and would love the opportunity to assist you with any issues you may experience before settling on a refund. Simply send us an email at thestizmedia.com/contact/ and we will help you right away.
Genesis Framework (not included) and the Styles add-on require Genesis 2.0 or higher.
Buy now and style your Genesis powered website today!