You know those times you spend hours trying to solve a problem, then finally swallow your pride and ask for help, only to figure out a solution 10 minutes after asking? Yeah, screw you those times. Well not really. Actually, my recent adventure was a great learning experience for me the other day when I saved a ton of time with Caldera Forms.
Remember that front-end posting of Testimonials by WooThemes plugin I made public on GitHub? I spent 6+ hours working on that plugin, after days of work exploring CMB2 for another project. Just to be clear, I absolutely LOVE CMB2. But for something like this, my plugin probably isn't the best solution, or at least isn't the only solution to my problem.
I've been continuing my obsession with front end posting, editing, etc., and found myself finally giving Caldera Forms a try after a quick Twitter exchange with Jesse Petersen.
I don't mind being boxed into WordPress as a niche, but going to explore more plugins for projects. Checking out @CalderaWP.

— Jesse Ⓦ Petersen (@jpetersen) August 8, 2015
I'm regularly a Gravity Forms user, but have also used Ninja Forms and Formidable Pro. All are great plugins, and powerful in their own way. As a front end developer (mostly), I get frustrated with the styling of Gravity Forms. Ninja/Formidable just never felt right, as far as the backend UI. I don't love Gravity Forms UI either, but I stick with it since it's so widely used.
The new kid (form builder) on the block
Yesterday I decided to test out Caldera Forms.
Josh Pollock is one of the main guys (or THE main guy?) behind CalderaWP. I've known of Josh for a few years from the PODS world. That alone gave me a bit of security in trusting his products.
Setting up a simple form was just that, simple. The UI made sense to me. It was clean and clear. Great. Ajax submissions worked like a charm. Removing default styling for the form and the layout was a piece of cake.. nice touch!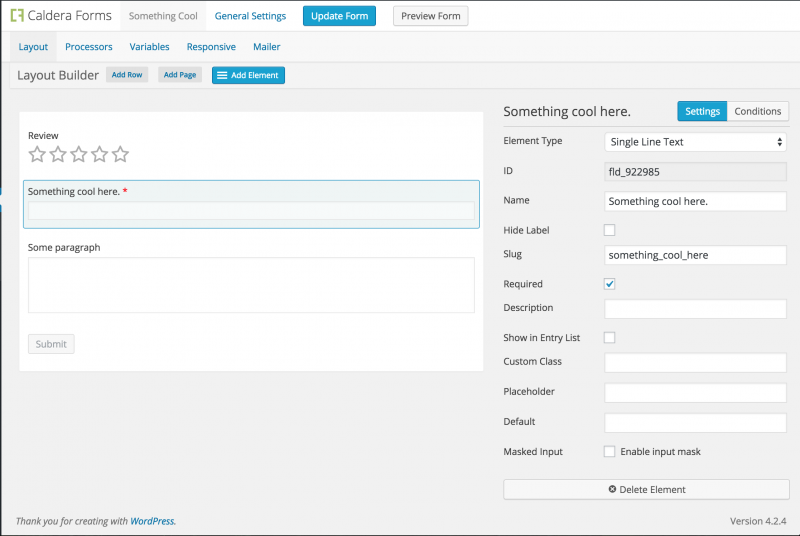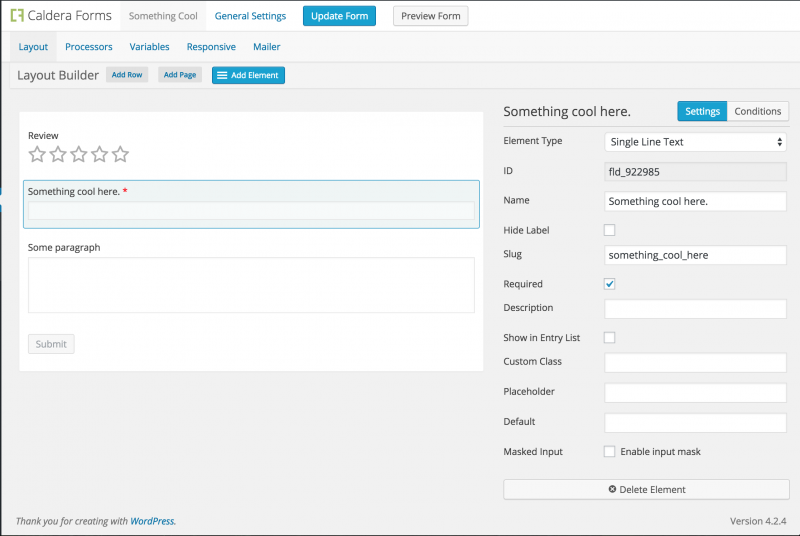 Front-end submissions
Disclaimer: I'm really into front-end submissions of CPT's lately. It's fitting for a lot of projects I'm working on currently.
After reading a bit about the free Caldera Custom Fields adds-on, it was a no-brainer to give it a try.
Here's where it gets fun.
I already have my working front end submission plugin I mentioned earlier, so I knew the post_type, and custom field keys that I needed to submit a new testimonial from the front end.
I added a few new fields, set the slugs to the field keys I wanted, then I added the custom fields save to post type processor, which is part of the free Caldera Custom Fields add-on to 'map' my fields accordingly. Simple and fast. Seriously.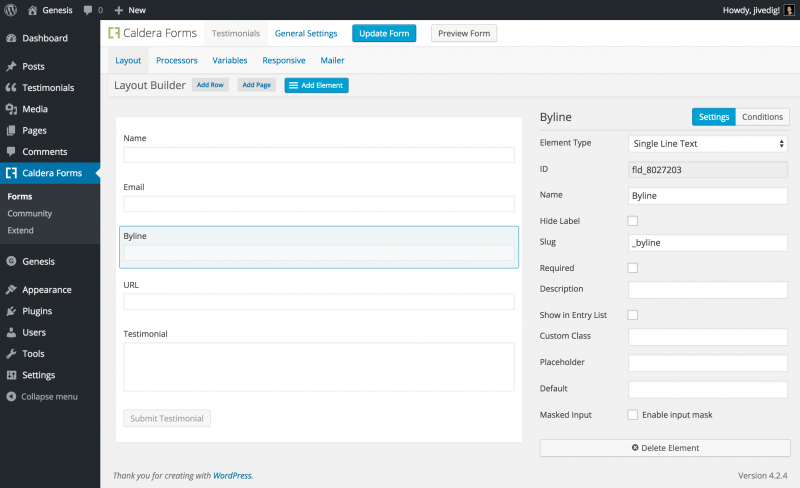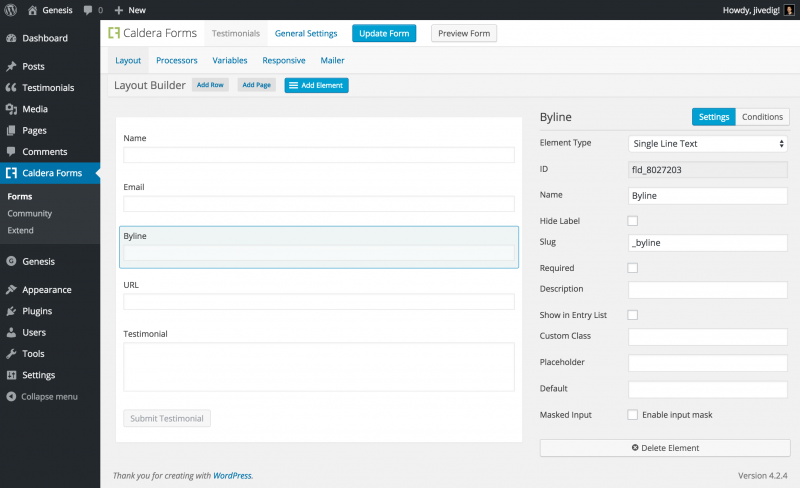 That's literally it. I put the form on a page and it's basically magic.
The same thing that took me countless hours previously, I was now able to setup in 10 minutes. And it was the first time I have ever seen Caldera forms in the WordPress backend.
I've made it really simple for you as well. Here is an export file of my form. Download it, and import into Caldera Forms on your WordPress site.
This is not to say I'm fully a convert, it takes me a while to fully commit to things… but I'm certainly going to keep playing with Caldera Forms.
What's next for Caldera Forms?
In my early stages of testing, the next thing I'd like to see built for Caldera Forms is a solid UI for editing profiles, with custom user meta field support. Since I was so happy with my initial use of Caldera Forms, I already purchased the Users for Caldera Forms add-on. This is a cool add-on for custom login and registration forms, but it doesn't currently do profile editing. I look forward to the addition of this feature (if it's coming at all).
Have you tried Caldera Forms? What are your thoughts thus far?